Gubbey Records pronounced (Gub-Bee), is an independent record company from Louisville, Kentucky. We release music from all genres. Our focus is on documenting obscure, isolated and eclectic Louisville music. We have released independent music from The Tallest, Furlong, IamIs, Rare Treats, Andy Matter, Tamara Dearing, Sick City Four, Opposable Thumbs, Anderson, Funkus, Mr. Samples, New Bravado, Shit House Poets, The Touched, Prozax, Stories For Boys, The Amoeba and more since 1994.
News: What an exciting weekend, Head Cleaner- A Louisville Music Compilation is officially released. You helped us raise $400.00 for the Louisville Underground Music Archive Project (though show admission and tape sales), wow thank you all so much!!! Thanks to everyone who came to the shows and purchased a compilation! The compilation is now available at Modern Cult Records & Astro Black Records and our website here, supplies are very limited so get um now!

Thanks to all 105 bands for putting the time in and submitting a song for the tapes, Matt Humble Pop Culture Painter For Hire for the cover art, Amy Munson for the layout, Cory Fusting for imprints and info sheets, Andy Matter for the one sheet and arranging, Jason Walker JW Poster Design for the flyer and our manufacture/distributors for making it look and sound pretty.

Thanks to Rude Weirdo, Opposable Thumbs, IamIs, Black Birds of Paradise, 1200 & Bad Star for playing and putting on such great performances this weekend. Thanks to Dreamland & Modern Cult Records for being such amazing hosts for the events. LUMA for coming out and telling everyone about their great archive project. Thanks to A R T x F M Club El Rancho with Brian Manley, The Deep End with Joey Mudd & Crescent Hill Radio 'Flies on the Wall with Kevin Gibson for having us on the radio to play some tracks from the compilation, Also thanks to Never Nervous for the write up and LEO Weekly for using our cover art.

Also, thanks for all the folks for the kind words, encouragement, help promoting etc. your efforts did not go unnoticed, much.

Louisville, you are such an amazing musical city!! Let's make this thing four tapes next year!!!

This is our last release for 2014, but we will be back with a killer EP from Louisville's Blind Tigers in early 2015!!!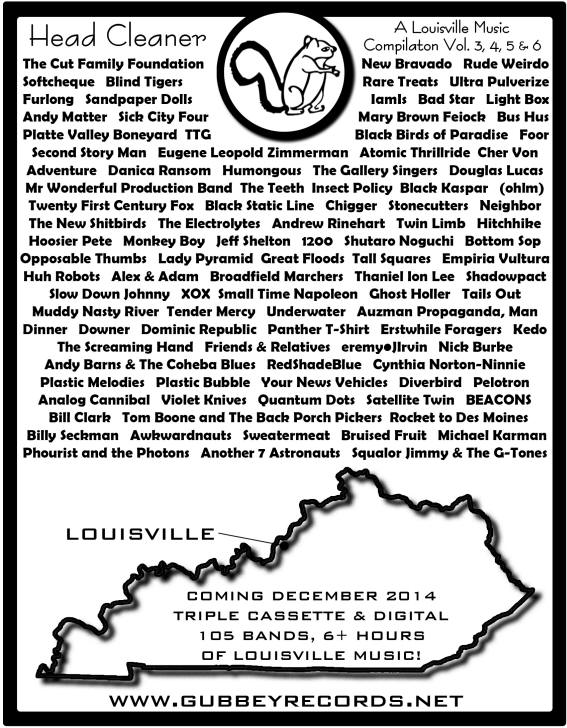 Flyer By: Cory Fusting