Gubbey Records pronounced (Gub-Bee), is an independent record company from Louisville, Kentucky. We release music from all genres. Our focus is on documenting obscure, isolated and eclectic Louisville music. We have released independent music from Furlong, IamIs, Rare Treats, Tamara Dearing, Sick City Four, Opposable Thumbs, Anderson, Funkus, Mr. Samples, Shit House Poets, The Touched, Prozax, Stories For Boys, The Amoeba and more since 1994.
Purchase-Head Cleaner-A Louisville Music Compilation Vol.1&2-Click Here!
NEWS: We are so very excited (and you should be too!) for the upcoming release of Head Cleaner-A Louisville Music Compilation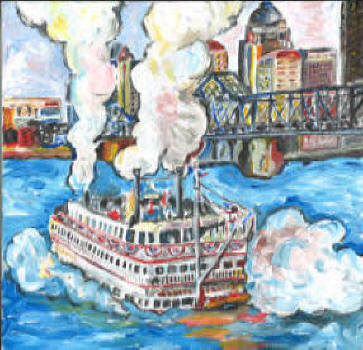 Vol.1 & 2 on November 29th! This two volume cassette compilation features 46 Louisville, KY musical acts on two cassettes and download card, a love letter from the Louisville music community. This two plus hour compilation is as massive as it is diverse, you will be hard pressed to find this much Louisville music in one place. Made in Louisville, by Louisville and for Louisville.

For the release of Head Cleaner we have cooked up an equally massive local music weekend extravaganza of three release shows, featuring 12 of the 46 local acts that appear on the compilation.

It all kicks off with an in-store at Modern Cult Records on Friday, November 29th at 1:00pm, FREE with Andy Matter & The Ten Wet Dollars (Power Pop), Adventure (RockNRoll/Blues) and New Bravado (Rock&Roll).

Later that evening, November 29th at 9pm, $5.00, the party moves over to The New Vintage and there is a super diverse local line-up of Sandpaper Dolls (Acapela Trio), Whistlin' Rufus (Old Time String Band), Weird Girl (Fuzz/Stoner/Rock) and ending the evening is a rare performance from BUS HUS (Experimental, Hip Hop). The Cut Family Foundation will DJ funk between sets.

If all that was not enough, we have another fine evening of divergent local music on Nov. 30th at The New Vintage an incredible lineup of The Bottom Sop (Outlaw Country), The Decline Effect (Punk/RockNRoll), Asm A Tik (Heavy Progressive) and D'Arkestra (Experimental Jazz Fusion).

Be there. For more info click here
Head Cleaner- A Louisville Music Compilation-Vol.1 & 2 Track Listing:
Vol.1-Side A
1. The Bottom Sop- Bank Robbin' Daddy
2. Tamara Dearing - Little Blizzard
3. Rude Weirdo - Rodney the King
4.Opposable Thumbs - Big Red
5. The Cut Family Foundation - Wrecked
6. IamIs - Don't Be Long
7. Asm A Tik - Temporalis
8. Furlong - Hoarder Fire
9. Humongous - Russian Space Things
10. Light Box - Drum Song
11. Blind Tigers - Fish For Lions
12. Black Kaspar - Taste the Rainbow
13. Tender Mercy - Same

Vol.1-Side B
1. Adventure - Pollen in My Beard
2. The Decline Effect - Serpent to Slay
3. D'arkestra - Tonight
4. Bush League - Doublethink
5. Danica Ransom - Slowbanger
6. Bus Hus - The Freedom You Were, The Fascist You Are
7. Foor - The Cardboard King
8. Rare Treats - Mary Has a Pet Spider
9. Weird Girl - All I Wanna Do
10. Luxor - Rings From Saturn
11. Sick City Four - Kamui Song


Vol.2-Side C
1. Whistlin' Rufus - The Kentucky One-Step
2. Sandpaper Dolls - Across the Wire
3. New Bravado - Get Sane
4. Plastic Melodies - Forward Stance
5.Andy Matter - Roll On Top
6. Mr. Samples - Stimulate This
7. Empiria Vultura - Grace
8. GodTicklerPlus - Red
9. Thaniel Ion Lee - Opisthenar
10. Anderson - 150 West
11. Mimi Von Schnitzl - Jenkum Jam

Vol.2-Side D
1. Hitchhike - June Bug
2. The Glasspack - My Other Ride is Your Mom
3. Ruff Patches - Jettison
4. Black Birds of Paradise- I Love You (But I Don't Know Why)
5. Plastic Bubble - Respectable Establishment
6. Stonecutters - Seekers of Truth
7. Vice Tricks - Holiday
8. Hoosier Pete - (The Dead Buried In) Shipping Port
9. The Mack - New Way to Begin
10. MU - Teeth
11. The Uncommon House Flies - Mystery Blend