Gubbey Records pronounced (Gub-Bee), is an independent record company from Louisville, Kentucky. We release music from all genres. Our focus is on documenting obscure, isolated and eclectic Louisville music. We have released independent music from The Tallest, Furlong, IamIs, Rare Treats, Andy Matter, Tamara Dearing, Sick City Four, Opposable Thumbs, Anderson, Funkus, Mr. Samples, New Bravado, Shit House Poets, The Touched, Prozax, Stories For Boys, The Amoeba and more since 1994.
News: We are extremely happy to announce our most ambitious release to date, Head Cleaner 2014- A Louisville Music Compilation, Volumes 3, 4, 5 & 6! This yearís edition will feature 105 Louisville bands on three 80 minute cassettes in a beautiful box with an additional volume that is digital only, a total of six plus hours of power packed diverse local music. Below you will find the listing of all of the bands that contributed a song to this yearís project. We want to thank everyone who has contributed a track, you're amazing, wow! In addition, we wanted to announce that if you purchase this yearís Head Cleaner, you will be helping to support a very awesome archival project that is documenting the Louisville music scene called the Louisville Underground Music Archive or LUMA for short (Click the link for more info). $2.00 of each compilation sold will go directly to this very worthwhile archiving project. We will be releasing in very early December, so stay tuned for the release dates/shows and track listings. As always, thanks so much for your support, we canít wait for you to hear this sucker! Flyer by: C. Fusting
In other news, our latest release the posthumous full length CD from the very awesome band The Tallest is now avaliable in our store or locally at Modern Cult Records.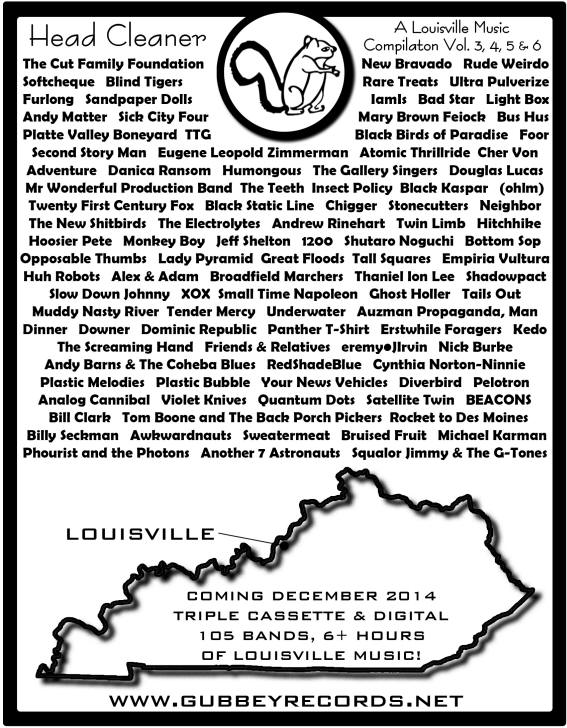 Flyer by: Cory Fusting