Gubbey Records pronounced (Gub-Bee), is an independent record company from Louisville, Kentucky. We release music from all genres. Our focus is on documenting obscure, isolated and eclectic Louisville music. We have released independent music from The Tallest, Furlong, IamIs, Rare Treats, Andy Matter, Tamara Dearing, Sick City Four, Opposable Thumbs, Anderson, Funkus, Mr. Samples, New Bravado, Shit House Poets, The Touched, Prozax, Stories For Boys, The Amoeba and more since 1994.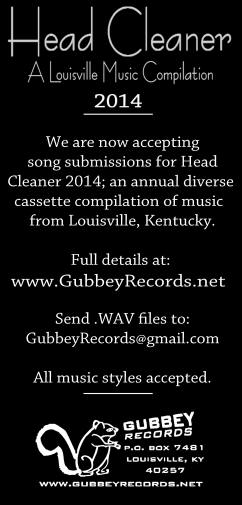 News: We are very excited to announce that we are now taking music submissions for our annual Louisville music cassette compilation, Head Cleaner 2014. Last year's edition featured 46 diverse Louisville music acts on a double volume cassette with a playing time the boasted over 2 ½ hours. We want to meet or exceed that turnout for the 2014 edition, but we can't without your help. Louisville bands please send us your music, all it takes is a song and the song info. The purpose of this compilation is to document and take a snapshot of the Louisville music community as a whole. This compilation is open to all styles of music from the Louisville area. The deadline for submitting a tune is August 15th. All the information about submitting a song is below, it is a very easy and pain free process. Please share this with as many folks as you can, we need to get the word out.


What we need from you:

1. Your Song- We are asking for you to submit your song in WAV format. MP3's typically sound like shit; they are compressed, so please send over in WAV format if possible, any issues let us know… Keep songs in the 1- 4 ½ minute range if possible; if your song is longer please just let us know in advance! Use a free service like Sendspace to upload and send the track to us. WAV files are usually too large to send in a regular email. Go to www.sendspace.com to upload and send us the link to download the file to GubbeyRecords@gmail.com. Any questions on this let us know. We are asking that you have your song to us on or before August 15th, if you think that there will be any issues getting us a song by the deadline, just let us know and we will see what we can do about extending.

2. Your Band/Act Recording Info- We need the following info for the credits: everyone who played on the recording and what they played. Also we need the recording information: where and when the song was recorded and by who. Please also include a contact email/website for the band.

We are really looking forward to this compilation! We will be putting together a huge release show as well, so stay tuned for details. As always, if you have any questions or concerns please contact us at GubbeyRecords@gmail.com or give us a call at 502-468-2184 (Dave).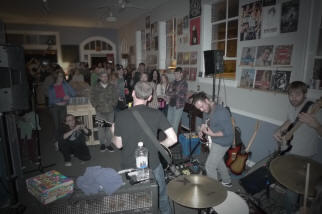 We wanna thank everyone who came out to the release of Andy Matter's "Pacific Midwest" cassette at Modern Cult Records! What a great time! You can now purchase "Pacific Midwest" at Modern Cult Records and in our store. There a very limited amount of the New Bravado "Sol Similar" cassettes avaliable at Modern Cult Records, Astro Black Records and we only have two left in the webstore here, act fast. We have plenty more in the works, keep it posted. Love ya.