<![if !vml]>

<![endif]>
Louisville's Gubbey Records accepting new music for 'Head Cleaner' compilation
Louisville independent music label Gubbey Records is sending out a call to any and all Louisville musicians to submit a track for its upcoming release, Head Cleaner — A Louisville Music Compilation. The submission deadline is Sept. 1.
The compilation will be released on cassette, hence the title. And when we say Gubbey is open to all musicians in Louisville, we mean it. Last year's project featured 106 local music acts and came out to more than six-and-a-half hours of music. It was released via three cassettes, with an additional download volume. This will be the compilation's third year.
Label owner Dave Rucinski says the point of including so many bands is to document a year of Louisville music from all genres.
Last year's edition featured at least two of Louisville's better-known, up-and-coming bands: Small Time Napoleon and Twin Limb. The rest were a mixed bag, by design.
"We will only reject if there are any homophobic or racial slurs in the music. Thus far we have never received anything … that would require us to reject a track," says Rucinski.
Why cassettes? Readers of a certain age — I'm 43 — will remember them being ruined in hot cars, prone to getting chewed by cassette players, and generally featuring mediocre sound quality.
Rucinski says it's because vinyl records — that other nostalgic music medium of choice — would simply take too long to create. And cassettes are hot, believe it or not.
"We're selling more cassettes than CDs," he says. "I'm not sure why."
He adds that each cassette also is sold with a free digital download.
Gubbey has a few demands for submitting songs. Musical acts have to include the title of the song, a contact email or website, and a listing of everyone who played on it, in addition to what instruments the musicians played. Gubbey also needs to know where and when the song was recorded.
Gubbey is asking any interested musical acts to submit songs via the WAV format, as it offers superior sound quality to MP3s. The songs should be from 1 to 4:30 minutes long. Also, musicians should send the music via Dropbox or Sendspace, as WAV files are typically too big to send via email. To send a track, go to either dropbox.com or sendspace.com, and then alert the label at GubbeyRecords@gmail.com.
Rucinski doesn't yet know how much the compilation will sell for, because he doesn't know how big it will be. Last year's three-cassette behemoth retailed for $15. He says there will be two live shows in conjunction with the compilation's release, each one likely having four bands. No further details about the shows are available yet.
To learn more, contact Rucinski at Gubbey's website.
<![if !vml]>

<![endif]>
Blind Tigers
Mosquito
Gubbey Records

After a few listens to Mosquito it's easy for me to conclude that Blind Tigers are exceptionally good at writing stripped down garage rock songs. This trio isn't here to wow you with their guitar chops and drum solos, and for that we can all thank the maker. I'm not saying that this band isn't technically proficient, it's just nice to hear all substance with no filler, which is absolutely the case with Mosquito.

Dia Thompson's voice is my favorite component to Blind Tigers. Her vocals take center stage thoughout Mosquito, serving as the perfect piece to decorate each song around. "Do or Die" is my favorite example, as the song starts off with mix of heavy guitar and pulsating bass and climaxes with a fabulous vocally driven chorus. I also particularly enjoy "Turnin Up My Radio" which strangely reminds me of a JEFF the Brotherhood meets The B-52's hybrid. Without Fred Schneider, of course, because only Fred Schneider can be Fred Schneider.

Mosquito weighs in at a quick six songs all hovering around the three minute mark. These songs get straight to the point, serving their purpose to the fullest. The format of this release happens to be cassette, a platform that continues it's unforeseen resurgence to modern music. Don't have a tape player? That's ok, because each copy comes with a free digital download. Also, I have to say that Kurt Dinse's album art is pretty awesome. It looks like a movie poster to a 50's sci-fi B-movie.

This is an easy release for me to recommend because I absolutely love it. Pick your copy of Mosquito at one of Louisville's fine record shops around town.
Phillip Olympia
<![if !vml]>

<![endif]>
As I listened to Blind Tigers' new music for the first time, I was really struggling to figure out how to think of them. The guitars are distorted and aggressive, making me think it's for the hard rock crowd and yet their progression make me think hooks all day. Then singer Dia Thompson's sweet but sinister voice over top of it all make me wonder even more where to fit this band.
When I actually looked at the tracklist for the first time while listening to track 5 of the 6 song EP, I realized they did all the work for me. The song's title, "Violent Pop," is an extremely accurate description for them. Blind Tigers is hard enough for you to gnarl along with their passion but also keep the beat along with their occasional synchronized clapping and ooohs and ahhhhs.
The EP entitled Mosquito wraps up in about 19 minutes but they make the most of it. There is hardly a dull moment in this release and you can expect more of the same at the release show this Saturday at Modern Cult Records. The all ages show starts at 8 p.m. with openers Satellite Twin and Opposable Thumbs. A $5 donation is requested but no one will be turned away because of lack of funds. BYOB. Mosquito comes in cassette form with a digital download.
<![if !vml]>

<![endif]>
Blind Tigers – Mosquito EP
Sludgy Pop Punk
Gubbey Records – Released April 11th, 2015
Mosquito is the soon-to-come release from Louisville's Blind Tigers, and its a very strong one at that. The six songs that make up the EP are quick and to the point – putting this out as a cassette only adds to the general punk aesthetic they've got going on (I love the art work, by the way).
"Do or Die" starts with a sustained strum on an overdriven electric guitar before picking up with the constantly descending progression – the chorus has a nice, dissonant crunch to it, and pairs well with the vocal harmonies that were added. "Night of 1000 Eyes" is even sludgier than the first track, and is my favorite track of the EP. Everything except the drums has a bit of distortion on it, and the guitar solo at the end is pretty great, too. As the EP progresses, it introduces more instruments, straying away from just guitar, bass, and drums. "Smooth Talker" layers in some handclaps, "Talk Demon to Me" adds some synth (or maybe theremin?), and "Turn Up My Radio" even imitates the sound of radio dials being tuned in. "Violent Pop" was the track that caught my ear on the first listen – the background vocals, super-catchy chorus, and guitar solo are all really great.
Blind Tigers releases the cassette with a show on April 11th at Modern Cult Records with Opposable Thumbs and Satellite Twin. If you like rock and roll, this is a good one to check out – it sounds great on cassette and headphones, alike.
Tracks I Liked: Do or Die, Night of 1000 Eyes, Violent Pop
Ben Southworth – March 29th, 2015 – Park Avenue
<![if !vml]>
<![endif]>
INTERVIEW: Blind Tigers Talk About Their New Cassette, bands in Louisville, and Where They'd Take Me for a Night on the Town!


Indie rock trio Blind Tigers have a new cassette called Mosquito dropping this Saturday, April 11th via Gubbey Records. To celebrate the release, an all ages release show will happen the same day at Modern Cult with Opposable Thumbs and Satellite Twin rounding out the bill. The show will start at 8PM and outside alcohol is allowed from what I understand. Go here for more information on the event.

To promote the release of Mosquito, Blind Tigers made a music video for their song "Talk Demon To Me" which can be seen below:


Earlier this week, the folks in Blind Tigers were kind enough to collectively answer a few questions about their band, the new release, and Louisville's music community.

Never Nervous: How did Blind Tigers form? Is there a fascinating origin story behind the three of you coming together?

Blind Tigers: We formed in 2013 as a duo with Dia on guitar and Jason on drums. We played our first show in early 2014 at Mag Bar and were approached after the show by Paul. We ended up calling him and that was that.


NN: What can you tell us about your upcoming cassette Mosquito?

BT: We wanted to evoke a feeling of tamed aggression. To be able to tell a story with the songs, starting out strong, pulling it in a little bit, letting loose and then bringing it in at the end.


NN: How does the writing process work? Is it a collaborative effort?

BT: Yeah, we all contribute to the writing process. Each member brings a song or an idea and we elaborate on it.


NN: How did Blind Tigers hook up with Gubbey Records?

BT: We submitted a song called "Fish For Lions" to the first Head Cleaner release. We really dig what Dave is doing with Gubbey Records and wanted to be a part of that.


NN: After the release of Mosquito are there any plans to tour or to promote the cassette beyond Louisville?

BT: The plan is wide open. We love Louisville and would like to start a small Midwest tour as well.


NN: Talk about some of the inspirations and influences behind the music Blind Tigers creates.

BT: Well we are influenced by grunge bands such as Nirvana and L7. We are also heavily influenced by punk bands like The Ramones and New York Dolls. We like a lot of bubble gum and glam rock like 1910 Fruitgum Company and T.Rex. We like fuzzy guitar, a driving bass and heavy drums and like to have sing along vocals.


NN: Lets say your band decided to take me out for a night on the town in Louisville. Where are we going to eat, drink and be merry? I'm a cheap date, by the way.

BT: We would start out with a delicious and affordable dinner at Golden Corral, taking in the Never Ending Chocolate Waterfall. Then head out to Mag Bar for some drinks and dancing and hit up Dizzy Whiz for a famous Whiz Burger on the way home. Then we could catch up on a marathon of the TV show Snapped.

"We would start out with a delicious and affordable dinner at Golden Corral, taking in the Never Ending Chocolate Waterfall. Then head out to Mag Bar for some drinks and dancing and hit up Dizzy Whiz for a famous Whiz Burger on the way home. Then we could catch up on a marathon of the TV show Snapped."

NN: From your point of view, what constitutes a "good show" as a performer, and/or as an innocent bystander?

BT: A good show in our opinion is a band that is really into what they are doing. Whether it's tight or loose, as long as they love it, it is a good time.


NN: Talk about a few current bands/artists in Louisville that you've been paying attention to lately. What do you like about them?

BT: Louisville has a lot of great bands right now. Graffiti, Opposable Thumbs, Andy Matter and the Ten Wet Dollars and The New Bravado are all bands that are putting out some good tunes. Opposable Thumbs will be playing our release show with us on April 11th and we dig their Talking Heads-ish sound.

"Louisville has a lot of great bands right now."

NN: Now that Winter is officially behind us, would you care to recommend any of your personal favorite warm weather records?

BT: These are all albums we enjoy for summer weather. Apocalypse Hoboken: Now's Not a Good Time. Beastie Boys: Ill Communication. Dax Riggs: Say Goodnight to the World. Sonic Youth: Dirty. A Tribe Called Quest: Midnight Marauders.


NN: What is your favorite thing to do outside on a perfect-weather day? Or are you a "I'm gonna stay inside and watch movies anyway because I don't give a shit about nice weather" kind of person?

BT: Little bit of both. When it's really nice out it's always fun to have a cookout, play some frisbee and drink beer. I think we would all consider ourselves to be tv junkies though. Paul likes to hit up the skate parks when it's nice out.


NN: Are you excited about the new Star Wars sequels? Or would you rather have more Indiana Jones movies? Or do you just really really hate George Lucas?

BT: Jason is kind of excited to see the new Star Wars movie. Dia is waiting on the release of Pee Wee's Big Holiday and Paul always has his lightsaber out. Overall, George Lucas is pretty cool.
Phillip Olympia
<![if !vml]>

<![endif]>
(Gubbey)
For lo-fi garage rock with straightforward guitar hooks and barebones, heavy-handed drumming mixed with generally icy vocals, there's a lot going on with "Mosquito," the debut from Blind Tigers. The chugging guitars and the explosive drums set the pace of the entire album, which mostly works in their favor, sounding more cohesive than dull, for two reasons: 1) Like most good punk/garage-rock songs, they get in and out quickly, and 2) They splice in subtle, outside-the-box elements — indie handclaps, scattered psychedelic touches, muffed harmonies and other slight studio tricks that still keep the gritty feel intact — to not let you get bored, without seemingly begging you (with some sort of grand gesture) not to get bored. The only way it works against them is when the vocals — which are on point when collected and cold — try to match the energy of the instruments and can't quite catch up.

<![if !vml]>

<![endif]>
Monday, March 30, 2015
Kentucky Music Review - Blind Tigers - Mosquito (Gubbey Records)
Blind Tigers began as far as I know in 2013 when they released the heavy yet poppy "Fish For Lions" on the epic Gubbey Records release "Head Cleaner: A Louisville Music Compilation Vol. 1 & 2" with plenty of songs hidden in the brains of this trio ready to be released. Normally I have some involvement with Gubbey Records releases but I played no part in putting this together so personally I find it thrilling to go into this project as a pure listener rather than a visual part of the creative process. The album cover depicts a wicked hand-drawn depiction of a raging mosquito about to drop the bomb with plenty of bright colors contrasting the black cassette and layout. Damned awesome right off the bat and a solid premonition of what's to come.
The album begins with a sludgy, crunchy guitar tone leading into a massive rhythm balanced by the sweet vocal delivery of Dia Thompson. "Night of 1000 Eyes" sounds like what would happen if you crossed dirty grunge with pop-infused rock to create an opener that's downright infectious right from the get-go! "Smooth Talker" and "Turnin Up My Radio" follow with up-tempo punky vibe and bubblegum influence under a wall of big sound, the latter displaying some really sugary singing and the fun closing lyrics of "Dancin' on my bed". "Do or Die" and "Violent Pop" keep the high-energy pop going with an explosive, catchy charisma before coming down from this unique sugar high in the charging, sexy closer of "Talk Demon To Me".
The discreet rhythm and lovable voice speak early 90s indie & pop but the guitar borders on thick sludge creating a twisted balance that works really well, like a piece of bitterness to prevent it from being too sweet and maintaining a palatable feel through the entire 19 minutes of this EP. Dave Rucinski's mastering makes this record rattle the eyeballs with the right sound system but keeps everything perfectly balanced. In closing the more I listen to it the harder it is to put down any of the addicting tunes within and just at the perfect time close to summer nonetheless! Put it on, crank it and let the mosquito suck your inner ear spectrum dry.
"Mosquito" will be officially released on April 11 at Modern Cult Records in Louisville, KY with Opposable Thumbs and Satellite Twin as openers.
<![if !vml]>

<![endif]>
Andy Matter, Pacific Midwest

Posted by brine
I think it was winter.

"Look for his car; I never know which house it is unless his car is on the street."

Soon inside, we hovered over Albini's version of Cheap Trick's In Color. We drank, smoked, rolled. On an exercise ball. It's here I heard some of the first rough cuts of Pacific Midwest. Shawn saved my notes and read them back to me:

Bullfrogs.
Tom Hanks in Big.
"Is it like you were milking a cow?"
"You have chosen wisely, son."
Jack journals.
"Don't take the Chalice from the palace."

I don't know what any of that fucking means (except jack journals, which I'll explain in person next time I see you), but I'll try and remain true to my gut drafts and fit them in here.

Andy Matter's kick-drummed himself into being a basic constituent element of the physical reality that is Louisville music. The Touched, Red Light Relay, Health and Happiness Gospel Band, Opposable Thumbs, Mimi Von Schnitzel, Furlong, Adventure, Butter, Legba Bentonia, Whiskey Dick, etc...His hands have been in so many cookie jars, both his crumbs and crud rock are strewn throughout this music scene.

Pacific Midwest has been a labor of love for the multi-instrumentalist/singer-songwriter. It's a potage that stews the experiences, sounds, influences and flat bullfrog weirdnesses Andy has performed and survived into one catchy postcard that culminates into a fun read. Almost like TOM HANKS IN BIG, Andy has moved from the toy store to dancing "Chopsticks" on the giant piano. (wow...I can't do it anymore. that was painful.)

Less of the Stooges-influenced crud rock Andy marauded his drums to in the early 2000s, Pacific Midwest is more of a dissolve into a collage of garage anthems pitted with heart-on-sleeve vocal deliveries in almost storytelling frames. It's a mix of personable observations that builds upon clever lyrical delivery through a voice that hovers between assertiveness just as it might waver into a bettering worriment. Lines from these tunes are as likely to get across someone with ire and frustration as they are to put across something with aspiration and hopes.

As much emotion is worn on truth, so are influences. The melodic rock of Guided By Voices, The Replacements, even Sugar, posture themselves into tunes that create golden choruses. This has the drive of a bombastic rattled rock that can morph into the pleasures of a bouncy jangle pop and back again in a snap. The vocals can waver and shake like Eric Bachmann or Doug Martsch. Check out the first video from the record, "Carbonation," a barnburner brandishing a nailed slap-backed riff:


Pacific Midwest is loaded with these types of hooks: "Nova No Va," "Alive for Days," "Final War," "Tonight and Every Night," and the track list goes on. And more aces from heartful sleeves are pulled with bandmates from other L'ville bands guesting throughout the album, including J Glenn (Mimi Von Schnitzel), Bob Dixon (Health & Happiness), Eric Suplee and Bill Montgomery (Opposable Thumbs), Jaye Wood (Red Light Relay) and Benn Lally and Jason Walker (New Bravado/Ten Wet Dollars).

Fuck it, let's all just put this album on and go swimming at the quarry. Good beginning to summer.

PS: Is it like you were milking a cow? See: jack journals.

Andy Matter's record release show for the cassette + download Pacific Midwest on Gubbey Records will be Saturday, May 17 at Modern Cult Records. Also on the bill are The Teeth and Tag Team Guys.
<![if !vml]>

<![endif]>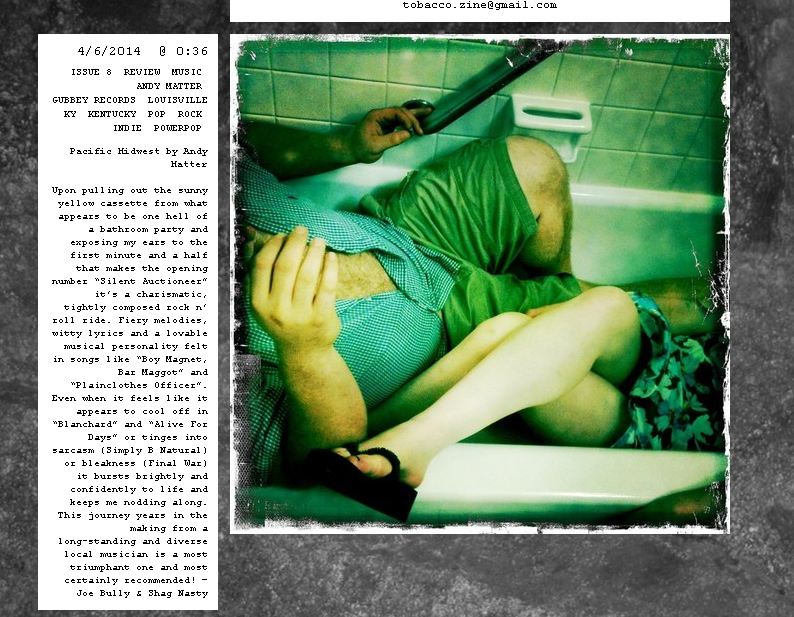 <![if !vml]>

<![endif]>
New Bravado
Sol Similar
Gubbey Records

The fellas in sludgey psych-rock band New Bravado obviously love Black Sabbath, but it's what is underneath that initial layer that sets them apart from other 60's/70's garage/fuzz clones. Whether it be intentional or not, I'm feeling a consistent vibe from late 80's/early 90's grunge bands from Seattle like Screaming Trees and Soundgarden. And considering those are two bands I grew up being infatuated with, I consider that to be a good thing.

Their latest offering comes in the form of a two-song cassette single, which is intended to serve as a precursor to their upcoming full-length Sun and Moon, which will be released later this year. While the A-side, titled "Sol Similar" is certainly enchanting, I prefer the B-Side "Long Head Blues," an engaged number that wastes no time getting started with a righteous head-banging wah-wah riff. It settles in to a nice, vocals-driven 60's throw-back, completing a short, but enjoyable listening experience.

While I recommend you giving this release your attention, I can't say I'm completely satisfied, but only because of the short two-song sampling offered. I have no idea when their full-length will see the light of day, but I'm certainly ready for a plus-sized helping of New Bravado tunes. Stay up to date with them by following them on facebook and/or visiting their site here.
<![if !vml]>

<![endif]>
Posted by brine
Chained to a crownwork of droll, lulling proles humming a repetitive low. A misunderstood hoof through the boredoms of a grey pod day. Stick this in the tape player. Play and blossom. Succumb to all these things that are cured in heat with hugs of distortion.

It is this. This New Bravado. This new cassette single. All and that. Sucked into the menage of instrumentation of this "Sol Similar." A slow drool of softly drifting vocals and camouflaged in strums and skies and drips from the reverb.

New Bravado returns to us from atop a golden star making golden showers of golden acid on our brown, dirty heads. Blueing and blacking, this band has appreciated further time travels, backpassing Sabbath and instead bounding into the heavy psych and power fuzz of the 60s, whence came Eden's Children, Banchee, Lincoln Street Exit.

Play and suddenly it's summer, 1971, a dirt yard, sweating out moonshine, dosing, and starting anew. Staring at the sun for years, until finally realizing it's the sun's reflection off the hodgepodge chrome from your front yard van, yawning with you, a magic arrow of Abaris abating your mind into a numb blur.

Then it's night, and the shift is unnoticeable, and you don't know how, and it all happens again with the Moon, and soon friends have stopped by, and the panning chants begin in the abracadabra of the dark, warm, narcotic Kentucky night.

"Sol Similar" and "Long Head Blues" are about the groove drowning in an analphabetic swamp of words and riffs. Ben Lally's voice retires further and downward into a retreat of reverb. Lower. Fading into soft echoes. Adam Copelin's bass leads everyone into a rabbit hole of misty strums lined on scriptured mirrors and near whispers, until the chords become heavy firefly trails.

This is about the clock and its banishment. And downstrokes onto Big Things like God and Zeus and Love. New Bravado just broke open some real shit and is passing it out, mad hatter style.

This band became one of my favorites in Louisville with the release of their debut full-length Unconscious Afternoon in 2013. The new "Sol Similar" cassingle shows the band has only upped its style and presence. Looking forward to more, hopefully in the near future.



New Bravado will celebrate the release of "Sol Similar" on Gubbey Records with a show at Modern Cult Records on Saturday, April 19, and will be joined by Opposable Thumbs.

<![if !vml]>

<![endif]>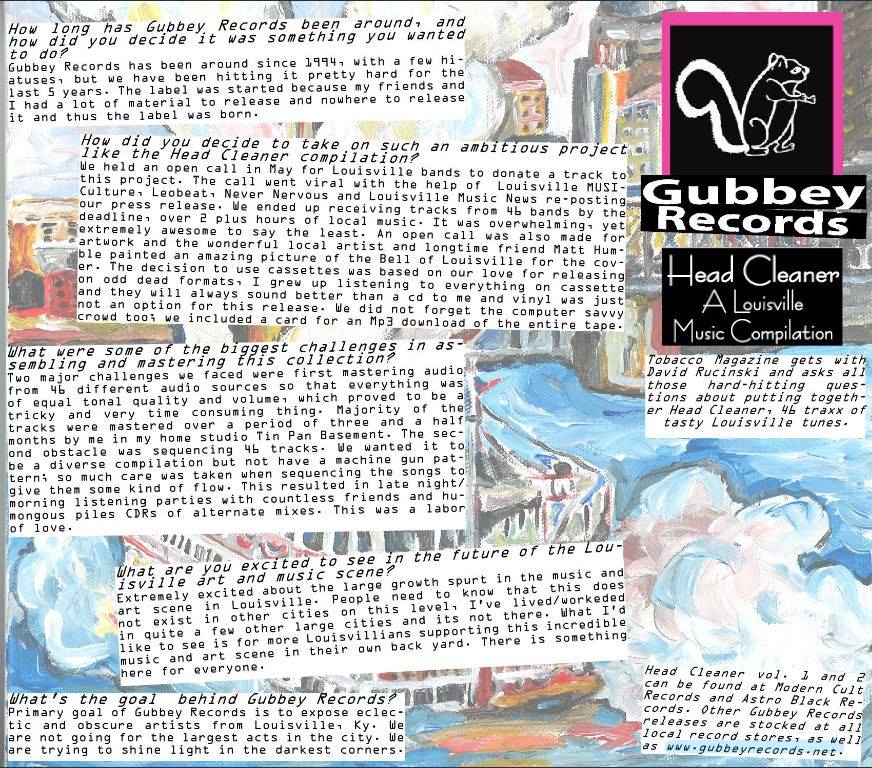 <![if !vml]>

<![endif]>
B-sides
Louisville's love letter
Called "a love letter from the Louisville music scene," Head Cleaner: A Louisville Music Compilation is a collection of 46 new songs from local artists of all stripes. Gubbey Records head Dave Rucinski decided to invest himself in this "labor of love" to call attention to the scene and expose it to both locals and those in the world outside our bubble.
"It is my belief that the Louisville music scene is at the very best it has been since the mid-to-late '90s," Rucinski says. "There are so many styles and numerous bands in town making high-quality original music that it rivals even the biggest music scenes across the country."
As a "history freak," Rucinski wanted to showcase what he was seeing and hearing and preserve it "so it was not lost to the air, and could be easily found in one place in a high-quality document form."
Gubbey announced an open call in May for artists to submit one song each. The 46 songs received made the process "overwhelming, yet extremely awesome," says Rucinski. Another open call was made for visual art; Matt Humble's painting of the Belle of Louisville won that honor. As for the music chosen, "No one was turned away," Rucinski says. "We did not play favorites for this release."
He issued it primarily on cassette, "based on our love for releasing on odd, dead formats. I grew up listening to cassettes, and they will always sound better than a CD to me." The cassettes also include a card leading to a digital download. Due to cost, a vinyl release is not planned.
The most challenging aspects were first mastering audio from 46 different sources to make the collection sound consistent in quality and volume, and then to sequence everything to make it feel as coherent as possible. Rucinski estimates that 155 musicians contributed, in addition to the five others who helped him with backstage details.
Despite taking up a large part of the year, Rucinski and Gubbey plan to do it again annually.
The New Vintage hosts a two-night release party, Friday and Saturday at 9 p.m.
<![if !vml]>

<![endif]>
California's KFJC 89.7 FM gave some serious Louisville love and played 10 songs in a row from Head Cleaner-A Louisville Music Compilation-Vol.1&2-You can listen below to the broadcast, starts around 26:50---Music from: Opposable Thumbs, Plastic Bubble, Rude Weirdo, Black Birds of Paradise, Danica Ransom, GodTicklerPlus, Humongous, Thaniel Ion Lee, D'Arkestra & Whistlin' Rufus! So awesome! Major THANKS!

http://archive.kfjc.org/archives/1312122253h_naysayer.mp3
<![if !vml]>

<![endif]>
This week's top 5, as chosen by music writer Jeffrey Lee Puckett and arts writer Elizabeth Kramer

'Head Cleaner'
Louisville's Gubbey Records is celebrating its most ambitious release to date: "Head Cleaner — A Louisville Music Compilation, Vols. 1 & 2," a 46-artist collection that digs into aspects of the city's sound. . Go to www.gubbeyrecords.net for schedule.
WHAT: Gubbey Records release party
WHEN: Friday and Saturday
WHERE: Modern Cult Records, 2100 Frankfort Ave. (1 p.m. Friday) and The New Vintage, 2126 S. Preston St. (9 p.m. Friday and Saturday)
COST: Modern Cult is free; The New Vintage, $5 each night