For international orders please contact us at gubbeyrecords@gmail.com .
<![if !vml]>

<![endif]>
CD
Gameboy Advance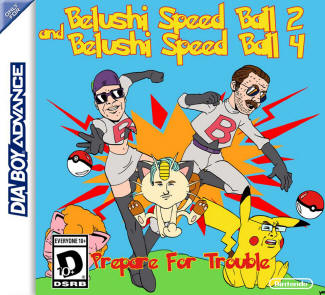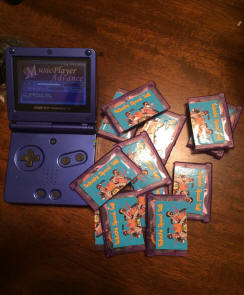 Louisville, Kentucky's Belushi Speed Ball are a rowdy amalgamation of the unbridled sloppiness of GWAR, the crowd interaction of The Rocky Horror Picture Show, and the crossover thrash that both killed the 20th century and kept it alive. Mad tunesmith Vince Castellano and his rotating backline of drummers combine blast beats, wild hammer-ons and howling vocals to produce an adrenaline rush of hardcore punk about Nickelodeon cartoons, dinosaurs, 16-bit video games and a variety of other pop culture ephemera from your 80's/90's childhood. We're talking songs that best function as the inner soundtrack for a ten year-old who just consumed his weight in pre-workout powder and is now watching his babysitter get murdered by a coke-fueled serial killer.

This assault to the senses is only compounded by the theatrics of the band's live performances, helmed by "manager"(?) Señor Diablo, which skirt the border between hallucinatory glee and utter chaos, as dinosaurs crowd surf atop giant slices of pizza, cannons fire beanie babies, pirates wielding baseball bats smash computer equipment, and tabletop models of cities are destroyed by sock puppets all amidst a mosh pit of silly string and beer. It's a scene that makes fans cackle with youthful bliss as venue owners cringe. All the while, crew with cameras push through the crowd like war photographers, capturing the bedlam for use in the band's television show, the Señor Diablo Show - a psychotronic chronicling of Louisville's active, underground music scene that's equal parts David Lynch and [adult swim]. The show makes an indelible impression on the Louisville film community just as readily as Belushi Speed Ball does on the music community. In short, the band is multisense and multimedia madness without equal.

The band's latest EP, Prepare For Trouble, will be released by Gubbey Records April 20th, 2019 on Gameboy. Yes, Gameboy. Got rid of your old Gameboy? Don't fret - you pitched your Walkman a decade ago, but you still buy cassette tapes. This is just the next stage in evolution. In the event that you're afraid of the future, the album will also be available both on CD and streaming services.

<![if !vml]>

<![endif]>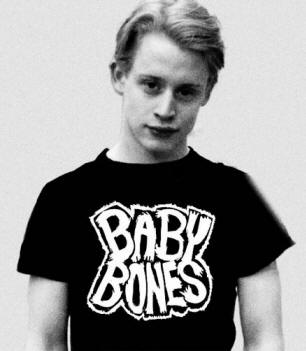 Get yourself right with your own Baby Bones T-Shirt. Small, Medium, Large and X-Large double screened by the fine folks at Heritage on black cotton. Only one run of these shirts will be made.
<![if !vml]>

<![endif]>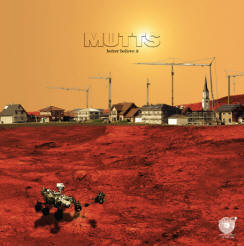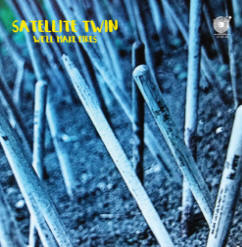 Louisville, Kentucky's Gubbey Records is extremely pleased to announce the release of the forth volume in our split seven inch series and our 50th release! Volume four is between Chicago's rock trio Mutts and Louisville's progressive punk group Satellite Twin to be released on 8/18. For decades, Louisville and Chicago bands have shared a common thread, interweaving and intersecting. We are here to continue this great tradition forward.


The two bands have teamed up to bring you a very diverse and very intriguing seven inch. Mutts were once called by a reviewer "Tom Waits fronting a garage rock band" and while we think that is a great stepping off point, their tune on this seven inch "Better Believe It" is that and so much more. It is a hard driving blues infused song with beautiful gruff and husky vocals. Satellite Twin deliver an eclectic prog/punk tune "We'll Make Fires". The song utilizes a strong rhythm with angular guitars that paint around the edges and vocals that build and rage.

The seven inch is limited to 300 copies and is on mixed color marble vinyl, each one is unique. The record will also come accompanied with a download code for a high quality digital download of the single.
<![if !vml]>

<![endif]>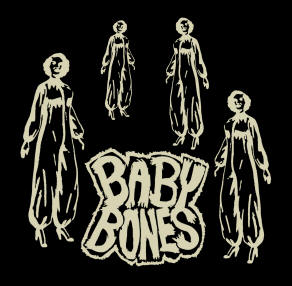 Louisville, Ky is home to many great musical acts of the 20th and 21st century and now one more group of light-bearers is carving their names in laser beams among the long hollowed list of other lauded bands.

Band members Dave Rucinski (guitar/vocals), Thomas Burgos (guitar/vocals/bass) and Badnewz Brandum (drums) have been well-established names in the Louisville music scene for years, all forging their own unique musical footprint. In early/mid(2016) the trio recorded a song for the We Have a Bevin Problem compilation under the mantle of Baby Bones, rocketing themselves into an unknown future.

Imagine if KISS went punk, knocked up the Queens of the Stone Age but married a surfer girl, then got divorced and remarried the sister of Slayer. That's what Baby Bones brings to the table. A punk conglomeration of modern sound birthed from the murky waters of music's excessively scandalous history. The question should not be has Baby Bones reinvented the wheel; nay, the question might rather be: why did they set complete fire to the car that the wheel was attached to?

If anything, Baby Bones oozes the essence of rock music. Guitars fuss and throw tantrums, vocals slither through the jungle of sound, the drums palpitate with rhythm and punctuate with abandon. When you're prepping for the street brawl, they'll be your fight music. When you punch a Nazi, they'll be your theme song. And when you are ready to love again, they'll be your make-up song.

Enter the band's debut, The Curse of the Crystal Teeth. It is, without a shadow of doubt, a record of its times. A record born out of sheer force to challenge the edifice of modern ills, by mere suggestion, allowing listeners a chance to draw their own solutions. Baby Bones-The Curse of the Crystal Teeth be released April 14th, 2018 through Gubbey Records on Cassette, CD, Digital Download and streaming on all relevant services. www.ThisIsBabyBones.com
<![if !vml]>

<![endif]>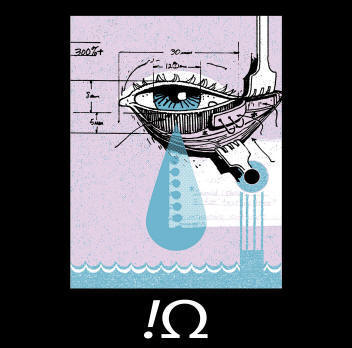 Dream Eye Color Wheel is the rhetorical exploit of a part-time troglodyte, a layperson's guide to subterranean gift-wrapping, a never-ending step into a split-second microsleep. A celebration of the unknown, it traces glittering moments of slowdown through the lens of hyperreality, layering ideas and sound objects through clouds of ferrite dust. It is a maximally underdriven cornucopia where wow and flutter are stretched and polished, milked for all they're worth.

This newest artifact, False Omega is a polymorphous snowball; having shape-shifted for four years, it stands as a tribute to automatic processes, stupefied clarity, and enhanced overall bewilderment. Sonic silhouettes overlap, hanging tinsel on a branching symbolic horizon. Tediously melded through electromagnetic transactions, it'll soften over-boiled eggs, repair cracks in crooked foundations, and increase degrees of freedom for most four-dimensional quadrupeds. It is the cycling history of everyone in particular.


<![if !vml]>

<![endif]>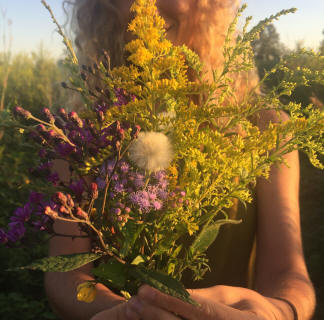 Growing up as an outsider, a punk rock weirdo weaned on anti-establishment politics and a broad array of music, it's easy to identify with William Benton. Hailing from Oklahoma, Benton has travelled the nation in search of the right fit. As a multi-instrumentalist, Benton has performed with the noise rock group Bodyhammer, lent his guitar first to Tyrone and then to Lucky Pineapple, both projects that blended elements of funk, lounge, and indie. In recent years, Benton has served time in The Phantom Family Halo, Shilpa Ray, and collaborated with folks like Bonnie Prince Billy, Steve Shelley, Steve Wynn, and Makoto Kawabata, to name a few.

How do you tie that all together? For Benton, it's assuming the identity Cat Casual, which represents his experience well. A synthesis of his disparate interests, Cat Casual is a catch all for his creativity, a cool and, well, casual approach to songwriting that feels natural and earned. The songs here owe as much to Nick Cave or Leonard Cohen as they do to Nels Cline or Angelo Badalamenti. There is a distinct groove here that compels each song, propelled by Benton's moody baroque, and tempered guitar playing. Backed by The Holy Midnight, the project has that dirty, dimly lit bar vibe that makes being bad seem good.



Cat Casual is about scope and scale and the ability to pull it off. From song to song there is no one right way to go about anything, made manifest here writ large as a gleeful exploration of sound. There is a manic energy barely contained throughout every song, seething quietly in the background, a picture of restraint. A realization of the collective experience of everyone involved, Benton's vision is distinct and colorful, as much the result of experience as any one influence.
<![if !vml]>

<![endif]>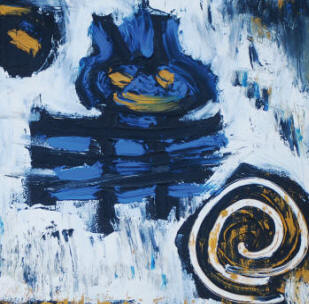 Rising out of the ruins of The Belgian Waffles! in 2007, Black Kaspar started as a rotating membership noise/improv collective under the direction of Wm. Zink. By 2011, the lineup had stabilized as Zink started relying on the Sick City Four (Heather Floyd, Chris Willems, Dan Willems, and Bart Galloway) as his "mobile strike force". The resulting live shows were notoriously loud, abstract, unpredictable, and rare . . .
Drummer Jeff Komara (Tropical Trash, Alcohol Party, Sapat) joined Heather, Chris, Dan, and Bill in the spring of 2016, and recorded extensively throughout the year at Heather and Dan's Wilder Park studio. The resulting recordings, partially leaked out on BK's Soundcloud page, are officially released for the first time by Gubbey Records.

Year of the Centipede has tentacles that reach back to krautrock, 70s/80s industrial noise, drone/doom/ambient metal, Dario Argento soundtracks (Goblin & Morricone), hybrid tape cut-up turntable and sampler work, minimalist composition, early punk rock . . . all run through machines and pounded into idiosyncratic soundscapes that live beyond their influences . . .
Year of the Centipede captures the weight and fury of Black Kaspar in all its analog glory.
<![if !vml]>

<![endif]>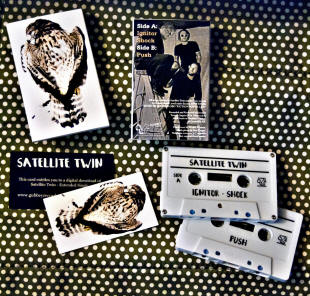 Satellite Twin is a progressive punk band that proudly calls Louisville, Kentucky their home. The band consists of Scott Boone (Guitars/Vocals) Shane Poole (Bass/Backup Vocals) J Brown (Drums/Backup Vocals). Their music is angular and driving, but never fails to find an area for experimentation. They drag listeners through a puzzle of layers and rhythms, through highs/ lows and tie it neatly together with elements of prog, post, metal and punk rock.. They have released two critically acclaimed EP's, "A Tower in the Right Flood" (Self-Released) and "The Mechanical Hearts" (Gubbey Records). Enjoy a brand new untitled three song extended cassette single (18 minutes) from Satellite Twin
<![if !vml]>

<![endif]>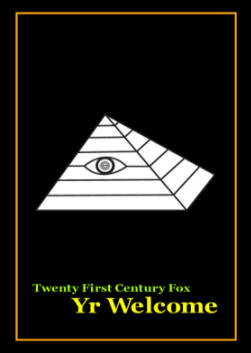 In the fall of 2015 Twenty First Century Fox took a break from playing shows to focus on finishing up the album that would become Yr Welcome. The album represents a growth in the band while at the same time staying true to the noisy, poppy sound Twenty First Century Fox has honed over four years of playing together. All songs were written collaboratively, and throughout the years the band has developed a more minimalist approach, showcased on this new album. Drawing elements from riot grrrl, surf rock, no-wave, post-rock, and many more the band constructs songs that are catchy and fun, all while seasoning them with the aforementioned genres. Lyrically, the album moves effortlessly from discussing subjects such as abandonment, proper grammar, conspiracy theories, and that time of the month.

Yr Welcome was recorded in two days at TreeHouse audio in early January by Trip Barriger and Patrick Hume. It features guest vocals by Cher Von on track one and Howell Dawdy on track eight. We are very pleased they could participate and respect them both greatly as musicians. It was mixed by Barriger, Hume, and Sean Roberts. It was mastered by Dave Rucinski at Tin Pan Basement studios and will be released by Gubbey Records on cassette tape w/digital download card on August 26th, 2016.
<![if !vml]>

<![endif]>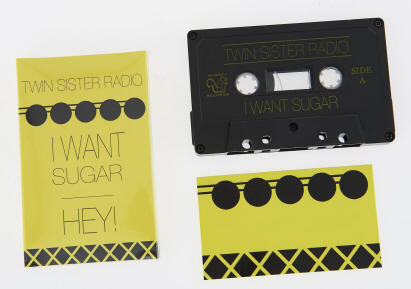 The beginnings of Twin Sister Radio came in 2012 in Louisville, KY. In that time they have released a few home recordings and have been featured on the River City Rumbler Compilation and Head Cleaner –A Louisville Music Compilation. After a few lineup changes and additions, the band has now found strong footing with its current line-up of David Wright (Guitar,Vocals), Benny Clark (Bass), Dan Marshall (Guitar), Joey Yates (Drums) and Catherine Baines (Vocals). Twin Sister Radio and Gubbey Records present to you in the form of a cassingle (with download card) their first recordings as a full band, featuring the songs I Want Sugar and Hey! They derive their sound from Influences of Krautrock, New Wave, Early Hip Hop and a misspent youth glued to MTV.

<![if !vml]>

<![endif]>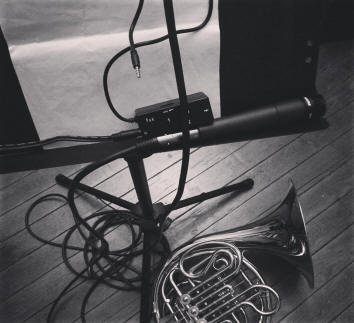 Louisville-based poet, sound artist, and advocate Rachel Short's sharply observed debut, "Nature: Industry: Self" experiences and illuminates contemporary life from adjacent perspectives, parsing insights from their overlaps and making peace with disorientation without succumbing to it.
Here is a language rich in musical and textual dynamics, as routine gives way to dementia, medication to clarity, outrage to resignation and vulnerability. Processed loops and plaintive instrumentation (short plays Horn and piano as well as evocative electronics) give a sense of a reality barely contained, insistent and thrumming like a beehive at the threshold of perception, and threatening to break into the uneasy, dissociative space of the everyday.

Short is too honest a writer to end on an easy uplifting note. Favoring an unblinking, sober assessment of responsibility and the human need to find a place to, if not thrive, at least grow and allow for connection and empathy in an increasingly compartmentalized and impersonal, yet demanding and intrusive world.
<![if !vml]>

<![endif]>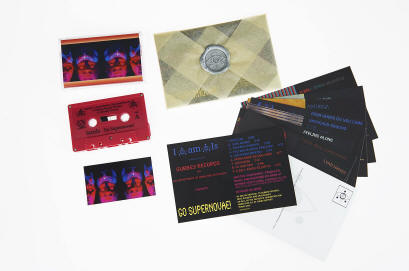 IamIs, pronounced "eye-am-is", is a two piece, rock/pop band from Louisville, KY. Formed in 2000, the band was created to explore and express ideas of existentialism. Currently recording artists on the Gubbey Record label, they excitedly await the release of their 3rd full-length album, Go Supernovae! on July 2nd, 2016. The songs of Go Supernove! are inspired by reflection upon friendships and relationships at a personal and cultural level. The album title is an invitation for each of us to dare to be our authentic selves and to shine at our highest potential. As a very special celebratory gesture, this album release includes a cassette, download card and limited edition postcard set. Each postcard represents a song on the album and includes original artwork, lyrics and song chord structure. Tracks not to be missed are Hustlin, Lead Hands, and Unsteady Ground.
<![if !vml]>

<![endif]>
Black Birds of Paradise, a psychedelic lounge metal band from Louisville, KY, break their migratory pattern and flock together with the release their second album, "Terror Bird," into the world. Available on Cassette and Vinyl from Louisville's Gubbey Records, Terror Bird will hit stores on May 14th, pick up a copy here or your favorite record store!
Black Birds of Paradise began as a trio, and has increased its numbers to a quintet since its birth four years ago. The Black Birds were friends before they were birds, and collectively claim Harry Nilsson, Esquivel, and Velvet Underground as influence and inspiration, with a heavy metal backbone. Their debut album, BBOP, was released in March of 2014. They have also been featured on all three Gubbey Records Head Cleaner Louisville Music Compilations and on the Louisville Is For Lovers project, THERE IS NO ONE: Louisville Is for Lovers Tribute to Palace Brothers in 2013.
<![if !vml]>

<![endif]>
Sold Out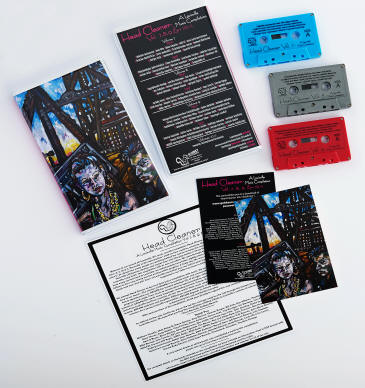 We are ecstatic to announce our most ambitious project to date. Head Cleaner-A Louisville Music Compilation Vol. 7,9,10,11 & 12. Now in it's third year, Head Cleaner is our annual compilation that documents the music of Louisville, Kentucky. An open call was made to the Louisville music community and the results completely overwhelmed and humbled us. We are honored to say that this years Head Cleaner consists of 188 local bands spread across a staggering 3 cassette box set and two additional download sets, 9 plus hours of local music, making this the longest and also an extremely important document in Louisville music history. Every stone was unturned and every corner searched to make this collection as diverse as possible, but it was also designed to flow like an album. This is Louisville music unfiltered, no band was turned away or excluded because of style or notoriety, its all here, a true look into Louisville music. The compilation also serves as a fundraiser. This year $2.00 from every Head Cleaner sold will go to Louisville's progressive non-profit radio station ARTxFM.
<![if !vml]>

<![endif]>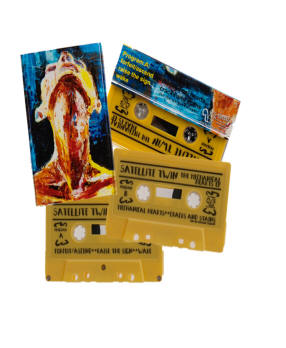 They sure chose an interesting name. For most folks, the term "satellite" evokes an orbiting body, usually mechanical, that performs some kind of communication function. A "twin" is a duplicate; a copy that in some way mirrors it's other form. It's fair to say that both apply here, but then that would imply that these fellas are just communicating the same thing as something else, floating around a much larger body to maintain their trajectory, and that's just not true.

Every time I feel like I have them pegged, they change it up. There are obvious influences that may pop up: 90's indie rock in all of it's angular glory, but behind that is a prog-rock groove for an end result that has the unmitigated glee and release of punk fury and prog-restraint. You never feel intimidated, or as if any of the music here is for show only; this is for everyone and you are welcome.

You can add self-recorded to their resume and it shows in the most righteous of ways. The work put into their new EP gives an easy, if perhaps illusory feel, that this is the kind of thing that just anyone can do. So in that way they're magicians: they make you feel like you're in on the trick, but there is so much more going on behind the scenes and it bears fruits with repeat listens. The Mechanical Hearts EP is an instant classic in indie music, and one that feels for the people and by the people.-SB

<![if !vml]>
<![endif]>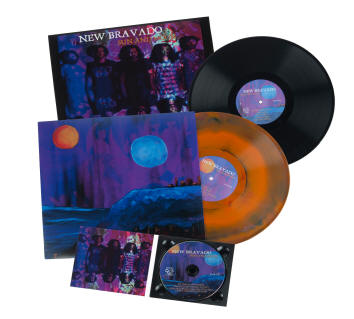 Two and a half years after their debut neo-garage-psych rock EP Unconscious Afternoon, New Bravado is all set to expose what they've been hiding underneath their overcoat to everyone. Expanding on their big rhythm, fuzzed/delayed guitar, verbed vocal sound, New Bravado's follow up LP Sun and Moon answers the question, "Where are they going?" Par for the course, Lally's lyrics teeter on the border of personal, universal, flirtatious, and crass - this time fueled and lubed by what clinicians might call relapse, marriage, and fatherhood. Exhibiting all the rock and roll with even more of the sex and drugs, the Sun and Moon LP is an expansion and maturation of their debut offering.
Sun and Moon is a full-blown, dripping, fuzzed portrait of modern love in a world where the concept of family is but a vague downtrodden piece of anti-nostalgia. Sun and Moon is an intoxicating cathartic scream of human struggle to hold together relationships, life and growing up juggling archaic archetypes and outdated values in a new homogenized cultureless society. On drugs. The songs on this album bridge a throwback psychedelic gap between romantic ideals and reality playing one into the next from start to finish like the classic LP's of yore.
<![if !vml]>

<![endif]>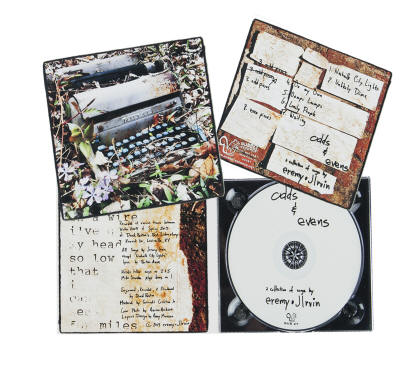 Odds & Evens is a collection of songs that comprises years of work from Louisville, Kentucky singer/songwriter Jeremy Irvin. Under his longtime moniker of eremy•JIrvin, the original album provides an understated counterpoint to the heavily constructed music Irvin has made with projects Whistle Peak and Second Story Man. With help from producer/Whistle Peak bandmate David Boston, Odds & Evens combines Irvin's earworm melodies with a reverb-heavy atmosphere, packed with bells and whistles to maneuver through the tone.At his most formative, Irvin's ideas have brewed from Louisville's angular independent scene, drawing from bands such as Rodan, Slint, and Crain. Odds & Evens presents a musician with ideas that have aged on the likes of Leonard Cohen and Neil Young, stripping down the heavy instrumentation in favor of personal and honest songwriting. Irvin and Boston's record places this range of influence at the center of voice, instrumentation, and timbre. Odds & Evens wants nothing more than to provide a listening experience not too dissimilar from the process of it's recording: taking a lifetime of uneven pieces and framing them into a sensible picture.
<![if !vml]>

<![endif]>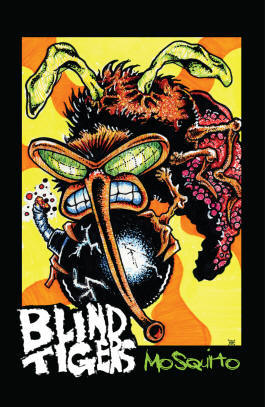 Gubbey Records is proud to present the Blind Tigers-Mosquito, it's six song debut EP cassette. Vocalist Dia Thompson sings with a sugar-coated snarl, while drummer Badnewz Brandum and bassist Paul Robey weave garage rock beats with punchy smooth tunes over which a trebler-than-thou guitar screeches atop. The resulting sound, captured within the brief lapse of eighteen minutes and forty-five seconds, harkens back to the Runaways and combines garage rock with early 60s pop.
<![if !vml]>

<![endif]>
Sold Out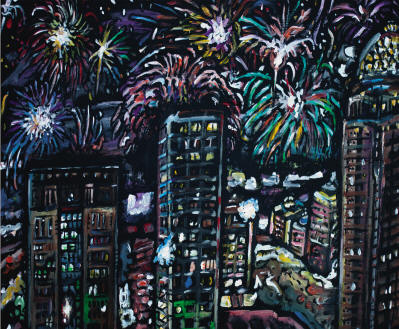 Welcome to our annual all-Louisville, KY, music cassette compilation. In 2013, Gubbey Records released the 46 song compilation Head Cleaner Vol. 1 & 2. For 2014, Gubbey, the little label that indubitably does, offers Head Cleaner Vol. 3, 4, 5 & 6, and if the previous compilation was a snapshot of Louisville's music, this year's collection is a panoramic landscape. Clocking in over six hours, this compilation too small for one medium, spans three cassettes and a digital download, totaling 105 songs from the finest independent musicians in Louisville. A slew of distinctive genres and styles bump, grind, and groove about from artists including Second Story Man, Twin Limb, Rude Weirdo, Twentieth Century Fox, Ultra Pulverize, Softcheque & 99 more bands. This year's Head Cleaner is a mass of volumes on several levels that describes a year in Louisville music. Also, with each purchase of this compilation, $2.00 goes directly to support the recently developed Louisville Underground Music Archive (LUMA) which is a part of Archives and Special Collections at the University of Louisville geared toward documenting and preserving the history and culture of the Louisville rock/indie/punk/hardcore music scene from the 1970s through today. So, without further ado, buckle up, put on the lap bar, and get ready or the 6 ½ hour ride through the twisted maze of Louisville music. We hope that you find this compilation a fitting tribute to Louisville's volumes of volume.
Featuring music from: Cut Family Foundation Sandpaper Dolls Bad Star Platte Valley Boneyard Softcheque TTG Mary Brown Feiock Second Story Man Furlong Ultra Pulverize Gallery Singers Twin Limb New Bravado Eremy Jirvin IamIs Twenty First Century Fox Rude Weirdo Monkey Boy Small Time Napoleon Black Birds of Paradise Andrew Rinehart Leopold Zimmerman Sick City Four Mr. Wonderful Production Band Cynthia Norton/Ninnie Slow Down Johnny Rare Treats Opposable Thumbs The Teeth Great Floods Light Box Blind Tigers Broadfield Marchers Jeff Shelton Black Kaspar Muddy Nasty River Adventure Andy Matter Kedo 1200 Huh Robots Danica Ransom Tall Squares Cher Von Lady Pyramid Shutaro Noguchi Hitchhike Alex & Adam Satellite Twin The Electrolytes XOX Sweatermeat Thaniel Ion Lee The Bottom Sop Neighbor Humongous Eugene Foor Atomic Thrillride Pelotron Violet Knives Bruised Fruit Hoosier Pete Chigger Insect Policy Stonecutters Quantum Dots Tender Mercy Bus Hus Douglas Lucas (ohlm) Black Static Line The New Shitbirds Empiria Vultura Shadowpact Ghost Holler Tails Out BEACONS Underwater Auzman Propaganda, Man Dinner Downer Dominic Republic Panther T-Shirt Erstwhile Foragers Temple of the Golden Dawn Friends & Relatives Nick Burke Andy Barns & the Coheba Blues The Screaming Hand Plastic Melodies Plastic Bubble Your News Vehicles Diverbird Bill Clark Analog Cannibal RedShadeBlue Tom Boone and the Back Porch Pickers Rocket to Des Moines Billy Seckman Awkwardnauts Michael Karman Phourist and the Photons A7A Squalor Jimmy & The G-Tones

<![if !vml]>

<![endif]>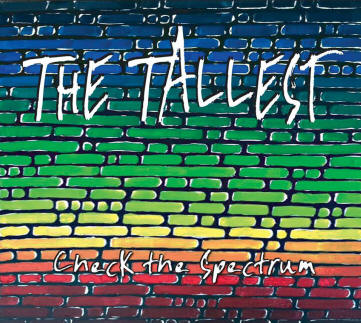 The Tallest was formed during the winter of 1997 in picturesque Lexington, Kentucky by good pals WESLEY SMITH (electric guitar, singing) MATTHEW HUMBLE (electric bass guitar) and JASON BLUNDY (another electric guitar). Wesley and Matthew had been playing music together since their eighth grade talent show in Henry County, Kentucky (1993). The band then relocated to the windy city of Chicago, Illinois just before the turn of the millennium. In Chicago, they met AL NICOLINI (drums). In 2003/2004, they recorded their first full-length album in Shelby County, Kentucky at Above The Cadillac Studios. The album, "The Future Burns The Sun" was released on Squid Vs. Whale Records in 2005. In 2006, the band recorded their second full-length album, "Check the Spectrum" with Greg Norman at Electrical Audio in Chicago. Eight years later, after the amicable break-up of the band, Gubbey Records in Louisville, KY has picked up the forgotten album and is finally available for purchase!
<![if !vml]>

<![endif]>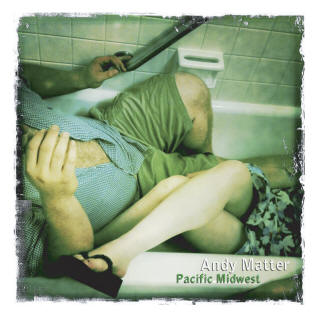 Andy Matter has kept himself busy over the past three years. In between playing for several bands, Matter has been spending the rest of what free time his day job afforded him recording Pacific Midwest, a 10-song rock & roll romp that serves as a meeting point between the garage and the arena.

A mainstay in Louisville's music scene since 2000, Andy Matter recorded the bulk of the instruments for Pacific Midwest himself, and he had the privilege to add the contributions of several bandmates (J. Glenn, Bob Dixon, Eric Supplee, Ben Lally).

Now, alongside his backing band Ten Wet Dollars (three members of the Louisville band New Bravado), Andy Matter is ready to share the sounds of Pacific Midwest, a collection of distinct anthems of power(ful) pop that will tickle your ears, loosen your legs, and poke at your brain.
<![if !vml]>

<![endif]>
Sold Out (Out of Print)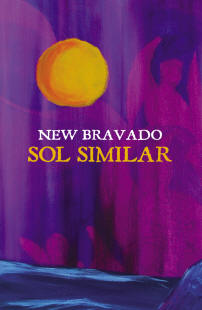 We are elated to announce and release a brand new cassette single from the Louisville psych rock band New Bravado. This Record Store Day exclusive single contains the songs "Sol Similar" & "Long Head Blues". The title track a dreamy, drug-hazed summer love song with a big, heavy hitting, guitar fuzzed shreddy B side - all on one cassette single with download card. This will be their first release since the 2013 critically acclaimed EP "Unconscious Afternoon". The "Sol Similar" cassette single is intended to be a precursor to their highly anticipated full-length entitled "Sun and Moon" which they are currently recording and will see release in 2014. The dapper cassette single will be released at an in-store on Record Store Day (4/19/04) at Modern Cult Records in Louisville, KY with New Bravado & local rockers Opposable Thumbs.
<![if !vml]>

<![endif]>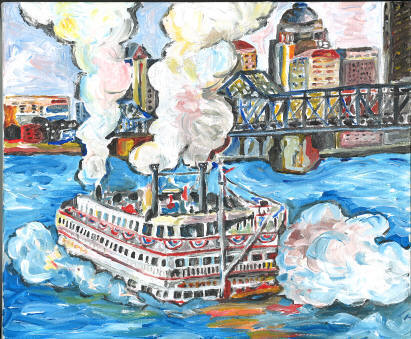 HEAD CLEANER is a love letter from the Louisville music scene. An open call from Gubbey Records resulted in 46 selections as raucous and diverse as the city that wrought them. With song styles varying from bluegrass to power pop to avant garde guitar noise, this 2+ hour compendium of the Louisville music spectrum, available on double cassette with digital download, cements Gubbey's reputation as "fiercely committed to local music," (Erin Keane, Louisville Magazine). Bush League, Rude Weirdo, IamIs, Adventure, and Humongous are just some of the contributors to this voluminous collection, made in Louisville, by Louisville and for Louisville. Get ready, and don't forget to wash behind your ears.
Music from:The Bottom Sop, Tamara Dearing, Rude Weirdo, Opposable Thumbs, Cut Family Foundation, Iamis, Asm A Tik, Furlong, Humongous, Light Box, Blind Tigers, Black Kasper, Tender Mercy, Adventure, Bus Hus, Danica Ransom, D'Arkestra, Foor, Bush League, Rare Treats, Weird Girl, The Decline Effect (Louisville, members of Kinghorse, Glasspack), Luxor, Sick City Four, Whistln'Rufus, Sandpaper Dolls, New Bravado, Plastic Melodies, Mr. Samples, Andy Matter, Empiria Vultura, Thaniel Ion Lee, God Tickler Plus, Anderson, Mimi Von Schnitzel, Hitchhike, The Glasspack, Ruff Patches, Plastic Bubble, Black Birds Of Paradise, Hoosier Pete, Stonecutters, Vice Tricks, MU, Jeff Shelton, and Uncommon House Flys.
<![if !vml]>

<![endif]>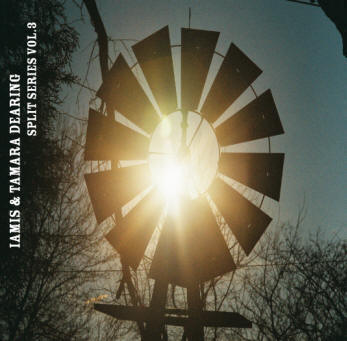 We are very excited to present to you the third volume of our split seven inch series, Split Series Vol. 3!This wonderful edition features two slices of sugary sweet goodness from Louisville, Kentucky Pop/Rock acts IamIs and Tamara Dearing. We have aptly placed this honeycomb on gorgeous bubble gum pink vinyl, limited to 300 copies. This edition comes adorned with a download card for a high quality MP3 download of the seven inch and five additional bonus tracks (IamIs- "Red Hot", "Keep Me Warm" & Tamara Dearing- "Heart To Mouth", "So Much Sorrow", "Little Blizzard") from the artists.
Side one features the elusive and existential Pop/Rock of IamIs. Their single "Paperface" is splended, unique and spacey tune that draws from many elements, but claims on none. It feels as if the song is coming from another time and place, both the future and the past. A dreamy and enchanting salute to all things pop.
Side two features the harmonious Tamara Dearing. Her single "Break Your Heart" is a harmony stacked , Pop laced bit of greatness. The song summons reflections of a Mary Ford who was heavely influanced by Jazz and that could play a mean keyboard. A bold, yet delicate walk down a musical highway rarely traveled.
<![if !vml]>

<![endif]>
Sold Out (Out of Print)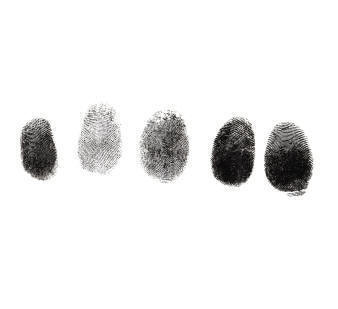 Louisville's Opposable Thumbs proudly presents its first album as a five-piece outfit, a blistering self-titled release that's louder than a rocket launch and quicker than a power lunch.


The 10 song album grabs the listener with the opener, "She Roll It," and doesn't allow for the listener to catch a breath until the final song, "Ms. Represent." With Eric Supplee's scronky guitar, Terri Whitehouse's fuzzy caveman bass, Bill Montgomery's keyboard from the fifth dimension, and Andy Matter's beats that jump from a lazy slink to a punchy riot, frontman Jeremy Bauer serves as tour guide through a sonic world of what rock music is, was, and should be.


A slice of organized chaos, Opposable Thumbs' self-titled album shows why they are hailed as the sound that's synthesized but never synthetic.
<![if !vml]>

<![endif]>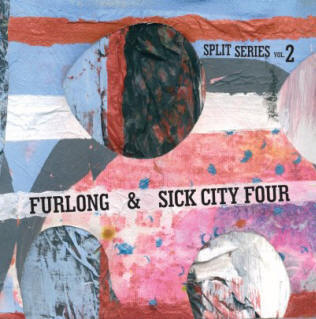 We present you with the second volume of our split seven inch series, a series that pairs bands of
varied musical style together on unique colored vinyl. This edition is no exception. Vol. 2 features two
wonderful outsider Louisville, KY bands, Furlong & Sick City Four. The record is on super sweet translucent
orange and green splatter vinyl, limited to 300 hand numbered copies.

Side one features the Louisville weirdo musical freak show, Furlong. Their curious single ,"Sex Bunker", is a fiery tune that shamelessly blends speed metal, lo-fi punk and psychidelic experimentation into a meteor that breaks apart on impact.

Side two features Louisville experimental legends, Sick City Four. Their single "Burundi Punchclock"
summons forces of hollow tree trunk echo, depth charge deep river guitar, Tsetse fly horn mutation
and a million sputtering punchclocks to form a single side of dark spinning matter

Included with the record is a download card that includes a high quality (320kbps) MP3 download of the
record and additional bonus tracks from Furlong "Hoarder Fire" and Sick City Four "The Anacreontic Song"
<![if !vml]>

<![endif]>
Sold Out (Out of Print)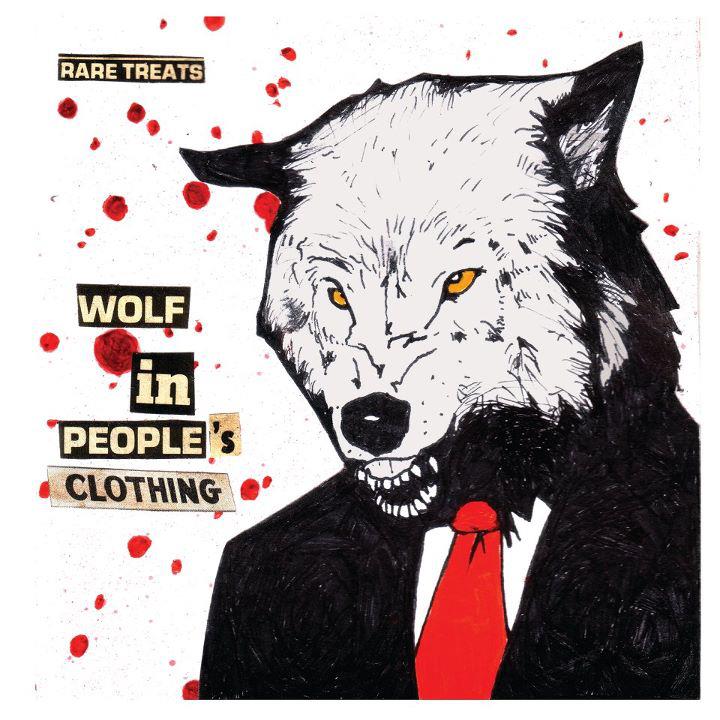 Out December 27th, 2011, Rare Treats-Wolf In People's Clothing is an album conceived, written and performed by Louisville folk artist Patrick Thompson. This album was recorded over the last year and a half in a very stripped down, DIY fashion. This raw and gritty sound was achieved by using only two microphones and unorthodox recording techniques. Half digital, half analog.

Thompson wanted to make a record that didn't sound entirely like it came from Louisville, Kentucky. The music is equal parts punk rock, experimental and no-wave. Song structure is simple but full of multiple layers of instrumentation and lyrics.

Originally meant to be for friends only, it is now available to the public on Gubbey Records.
<![if !vml]>

<![endif]>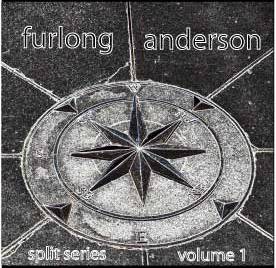 Out now, the first volume of Gubbey Records seven inch split vinyl series covers a lot of territory in three cuts, including the Furlong original "Egg McMan," a shape-shifting blend of dirty southern punk rock, complete with slide guitar, and a fierce version of Leadbelly's "They Hung Him On A Cross." On the reverse, primitive bar guitarist Anderson fingerpicks to dark and broken vocals, paying tribute in his vinyl debut to Louisville's rich musical culture with a cover of the Sean Garrison ballad "The White Flag."

The Details: Limited edition, hand numbered seven inch: 100 copies on split color, red & black vinyl (Sold Out), 100 on white and 100 on straight black vinyl. Mastered at Golden Mastering by John Golden. Once these are gone, they're gone for good, no re-press. Only $5 postage paid . Order above/below with PayPal link